TRAVEL & VISA INFORMATION
Glasgow has excellent rail links with the rest of the UK, and is served by daily flights from all major UK cities and European and Transatlantic airline hubs. An express bus service links Glasgow airport to the city centre.

More information on travelling to and from Glasgow can be found via the following link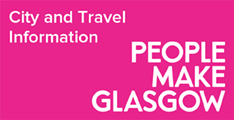 VISA INFORMATION


Nationals or Citizens of countries within EU/European Economic Area (EEA) are free to travel to the UK without the requirement to apply for 'entry clearance' or a 'visa'
Other 'non-visa' nationals do not normally require a 'visa' to visit the UK for visits of less than six months in duration, unless the purpose of the visit is to undertake paid employment whilst in the UK.
Examples of 'non-visa' nationals include nationals or citizens from the following countries:
Argentina, Chile, Namibia, Australia, Hong Kong (SAR), New Zealand, Botswana, Japan, Singapore, Brazil, Macao (SAR), South Korea, Brunei, Malaysia, United States of America, Canada, Mexico
Irrespective of your nationality/citizenship, you are strongly advised to refer to the UK Border Agency website for up-to-date guidance on 'entry clearance' and 'visa' requirements for travel to the UK